Many of us probably have seen stunning exhibition stand designs at trade fairs, but when it comes to creating one for our own business, the task of creating such an effective display can seem dauntingly complex. You need to consider a large number of variables such as shape, size, colors, adjustable frame, branding, graphics panel, and many more.
One such important factor you need to keep in mind is color; if you choose the right colors that reflect your brand and logo, then your stand can potentially make a huge impact on your audience With this in mind, here are some tips on making your booth – and your brand – stand out from the pack.
Hiring a professional for color selection
It is first important to note that a huge number of exhibition stand companies end up using the same colors in their designs, as most people put great stock in color psychology. This is, of course, a very reasonable and logical thing to do, as this does have a very real effect on the type of people you will draw to your booth, or if you will draw them at all.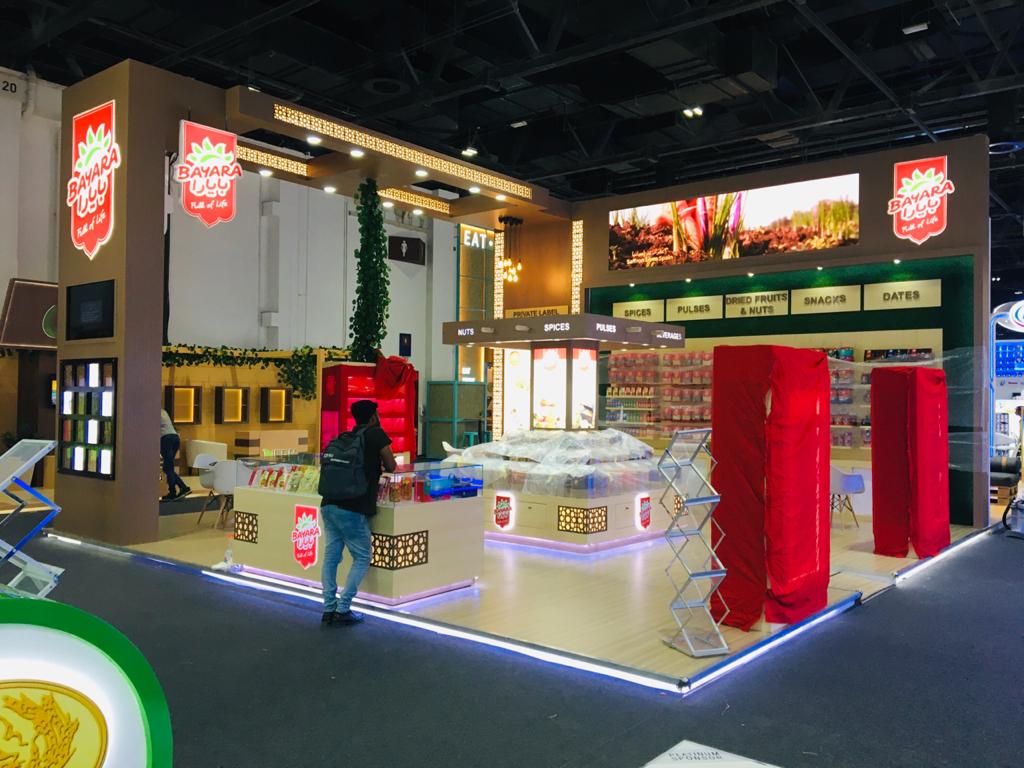 This does mean, however, that many companies exhibiting can end up blending into the background due to the similar color palettes that they end up using. For this reason, a little creativity is very important to stand out from the pack, particularly in larger trade fairs where you may be facing a great deal of competition. Hiring someone professional in the line of work is great to ensure that your custom build exhibition stand is fully equipped to make the most of your show. Such companies are available in many forms such as exhibition stand builders, exhibition design company, exhibition stand designers, exhibition stand companies, exhibition booth contractor, and many more. 
Be bold and creative in your design
With so many booth designs on display all competing for attention, a courageously bold design can often prove a novelty for passers-by, and at the very least make a strong impression on your audience. Consider being bold in order to catch the eye of people who would normally pass your stand by.
This does not mean, however, that you should be haphazard in your choice of color. Color psychology really does come into play, and your choice should be tailored to the image you wish to give, even though you can tweak it to be bolder or integrate it into a stylish, more complex design featuring other colors.
Color psychology of exhibition stands
Blue is considered both intellectual and soothing and is often used by companies to convey a feeling or trust and serenity to an audience. This can encourage visitors at trade fairs to visit your booth, as long as it can stand out from the predictable sea of blue that you will find around you. In addition to this, its "cold" nature needs to be countered by a friendlier color somewhere.
Red is another interesting color, and stimulates the senses and incites action. It can be warm and exciting, but can also be perceived as aggressive. It does catch attention very quickly, however, and this color can be integrated into booth designs to great effect for this reason, especially where there are many stands, again all competing to capture an audience.
An excellent color to choose is black, which oozes strength, sophistication, security and substance. All of these traits can bring a timeless, high-quality aura to your brand. With that said, black does not draw attention to itself, and can mean that you get lost in the crowd.
It is well worth learning about color psychology before you select a few shades for your exhibition stand design, and also think about how you can use them in a way that stands out from the other designs that will be present. Utilizing a selection of colors can often bring great results if balanced in a way to minimize the negative qualities of the others.
How to find an exhibition stand design company in your nationality?
Regardless of where you are planning for your exhibition show, exhibition stand design companies can really help you choose the right colors for your stand. To find one, you can use internet to get in touch with them by using some relevant keywords including exhibition stand manufacturer Amsterdam, booth design company Germany, exhibition stand manufacturer USA, etc.