Utech Europe 2021 International Trade Show for Polyurethanes industry
Utech Europe 2021 is a globally renowned and most popular trade fair held every year in the Polyurethanes industry organized by Crain Global Polymer group and organized in association with Urethanes technology. In the last Utech Europe International trade show held in 2018, more than 200 exhibitors and 10000 visitors participated over the time span of 3 days. In addition, people who visited Utech Europe last time came from different parts of Europe including 90 worldwide countries.
There is no doubt that Utech Europe Netherlands 2021 will attract top level international exhibitors and visitors from all around the world this year too, particularly from the global polyurethanes industry Including sponsors, industry leaders, and much  more.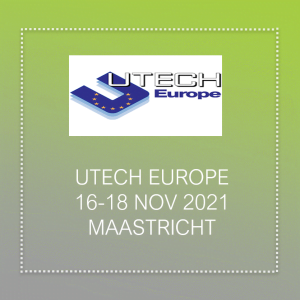 When does Utech Europe 2021 take place?
Utech Europe 2021 International trade show will take place from 16th of November to 18 of November 2021. Utech Europe is a global trade show held in Maastricht.
What is the venue of Utech Europe 2021?
This year, Utech Europe will take place in Maastricht, Netherlands, and is held at MECC Maastricht on the street forum 100 in the city.
What exactly happens in Utech Europe 2021?
Utech Europe 2021 hosts a range of international and national exhibitors from the Polyurethanes industry.
Why you should participate in Utech Europe 2021?
Utech Europe provides an international platform and allow exhibitors to attract a high number of targeted audience. Apart from this, Utech Europe 2021 will help exhibitors learn more about industry trends, future programs, products and services – relevant to their business. Visitors can explore the vast avenues of the Polymer industry, new technologies and more. You can attract a number potential clients and customers and help boost your international influence over the industry. Whether you are a newcomer in the polymer industry or a well-established company, the Utech Europe 2021 International trade show offers you a range of benefits such as:
Help boost your brand recognition in the global community
Produce new leads and business opportunities
Allows you to present your products and services to your targeted audience
Face-to-face interactions
Provide you a chance to attract new as well as existing customers and maximize exposure
Conduct live meetings with your potential clients in a short time period
Display your products and services in front of 10,000 plus visitors for 3 straight days  
Make sure to book your hotel reservations and check if there is room for exhibition stands in the show. You need to get in touch with organizers to reserve a deserving spot in the show for your trade show booth and exhibition stand. Hire a professional trade show booth manufacturer to help you make the most out of the show. It is vital for every exhibitor to gain a competitive edge in the show. To achieve this goal, your booth should stand out from the rest. Making your booth on your own may prove to be disastrous but incorporating the help of a professional artisan will turn the table on your competitors. Also, make sure to place an order for a custom-made exhibition stand or booth with your business logo carved on it so people can remember your name and logo whenever they see you next time.
Major Exhibition In Germany