Semicon Europa Munich 2022
Every year, hundreds of thousands of people take part in the largest international trade show for electronic manufacturing in Europe – Semicon Europa. Year 2022 is not any different. This year, Semicon Europa 2022 will bring new technologies for everyone to see and learn about. The event was postponed last year due to the rising cases of COVID-19 and the renewed dates were later again postponed due to the second wave of COVID-19. However, now when everything seems to be in control, Semicon 2022 is looking forward to making a comeback with a renewed energy and passion.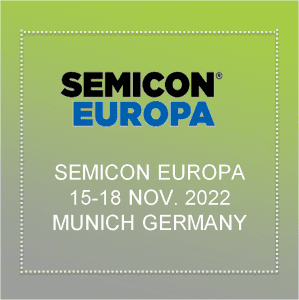 Where it will take place?
We are delighted to announce that Semicon Europa Munich 2022 will take place in Munich, Germany starting from November 15 and will end on November 18, 2022. Semicon Europa 2022 Germany might have gone digital, but the year 2022 edition will be a live event hosted at Neue Munchen, Munich, Germany. The exhibition ground will implement comprehensive COVID-19 preventive measures such as maintaining social distancing, contactless presentations, wearing masks, and more.
Who will attend the show?
Due to the ever-increasing developments in technology, Semicon Europa Munich 2022 is a critical event for the microelectronics industry as it focuses on the latest in innovation and achievements in semiconductors and materials. 2022 Semicon Europa is a colossal event with nearly 6000 industry experts expected to partake in the event with another 67,000 visitors anticipated to fill the hall of the exhibition center in Munich, Germany for a packed four day. Make sure to book hotel accommodations before you plan for the event and save on your travel expenses.
How can you make a notable presence in the show?
Also, be sure of hiring a professional exhibition stand design company in Europe while planning for your exhibition stand. Under the guidance of an expert, you can make your presence felt by almost everyone in the hall and stand out from the rest. To minimize the logistics expenses, you are advised to pick an exhibition booth builder in Germany as they can quickly and easily transport your stand or booth to the venue as compared to any European company. It is easy to attract maximum attention to your booth in the hall when you have a professional team on your side to look after your every exhibition stand design needs. This will give you an upper hand in the competition and bring your company name to the notice of industry professionals. 
Major Exhibition In Germany