Become an exhibitor in MWC Barcelona 2023 with Expo stand services
For anyone exhibiting or thinking of exhibiting in MWC Barcelona 2023, here you can find your right partner to help you make the most out of it. Expo Stand Services can help ensure your company is seen by everyone. Give us your company details, branding goals, images and logos and we can bring you an astonishing MWC Barcelona 2023 exhibition stand design that will steal the show.
What is Mobile World Congress Barcelona?
MWC Barcelona is a global event that takes place every year in the city of Barcelona, Spain where exhibitors, attendees, sponsors and business partners come together to attend the in-person event.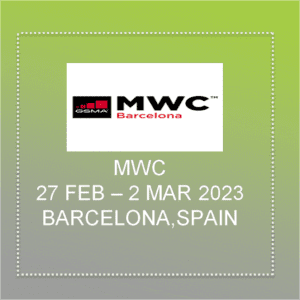 It gives them a chance to spread their wings and create a brand image of global standard. However, none of this would bear fruit if you fail to woo the audience with the visual representation of your brand. Out of so many people visiting an exhibition, there are only a few who would rather show interest in your company and therefore, willing to invest in your brand. They are always looking for an opportunity to invest and that is what makes them super careful and suspicious about everything. To gain the trust of these prospects, you need to bring them close to your booth and win their trust with your persuasion skills. But first, you need to instigate a sense of excitement and interest in them. And that's where we come into the play.
Grab the attention of prospects at MWC 2023 Barcelona
MWC 2023 Barcelona is a once-in-a-year kind of event. It leaves you with no option but to make prior arrangements months ago in order to stand out from the rest. It also leaves you a lot of room and time to explore your creativity. Expo Stand Services, with its mammoth reputation and priceless experience, can help your dreams of global recognition come true with magnificence. Mobile World Congress Barcelona is where business dreams come true and so you can make the most out of it with our professional support. We have a team of seasoned designers who are working day and night to provide you a well-featured expo stand that can surely turn heads.
Get ready to exhibit in MWC 2023 Barcelona with our leading exhibition stand design company in Barcelona, Spain. Expo Stand Services takes great care of every step of the stand production process – from conceptualization and design to building and booth management. We understand the significance of brand exposure at Mobile World Congress 2023 Barcelona, that's why we manage all your projects with hawk-eyed precision.