CPhI Worldwide 2022 – Restoring the unity in the Pharmaceutical industry
CPhI Worldwide 2022 – Convention on Pharmaceutical Ingredients 2022 is a well-recognized pharmaceutical event with over 30 years of experience in bringing together the movers and shakers in pharma. This CPhI Worldwide will reunite the global pharmaceutical giants under one roof in Frankfurt for three days of business, networking, and productive discussion. After the cancellation of dates in 2020 due to rising cases of the COVID pandemic, the show was rescheduled in 2022 summer. Unfortunately, due to the second wave of pandemic, dates were again rescheduled, originally set for the summer. Now, the event will take place this year for 3 days starting from 1st of November at Messe Frankfurt, Frankfurt, Germany.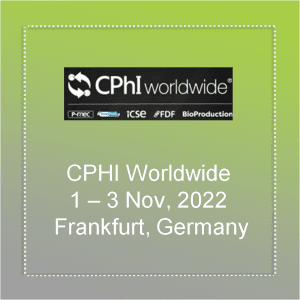 With tens of thousands of pharmaceutical companies' onsite, CPhI worldwide Frankfurt provides an unparalleled platform for your drug & medicine company to maximize your visibility within the industry. This can be done with the help of exhibition stands that will be installed in a product-specific zone to allow your target audience to directly approach your booth or stand. 
What is CPhI Worldwide 2022?
CPhI worldwide 2022 is a comprehensive exhibition of ingredients and many companies will participate to build their brand awareness including P-MEC, InnoPack, ICSE, FDF and BioProduction shows. Together, they cover the entire pharmaceutical machinery, packaging, outsourcing, finished dosages, and biopharma sector, respectively. CPhI worldwide Frankfurt will host 2500 companies and will be attended by almost 50,000 professionals from the healthcare and pharma industry at the global level. With pharma professionals coming from 170 countries to attend the show, CPhI will show the connective power of the pharmaceutical industry's most established community.
With CPhI worldwide 2022, the pharma community will return as an even stronger community, rising from the ashes of extreme pressure that COVID-19 pandemic has exerted on the pharmaceutical industry. The show will allow all industry professionals to outsource their products, solutions, and build new connections needed to bolster the industry in its response to the pandemic.
Apart from offering a venue for pharmaceutical companies to exhibit their products and services, CPhI is also a catalyst for innovation and individual professional development. The show will cover hundreds of conferences, roundtables, and insight briefings that will offer hours of learning opportunities, presentations of the latest research, and opportunities to listen directly from the pharma industry thought leaders.   
Major Exhibition In Germany
How to build a strong brand representation in CPhI?
With the help of leading exhibition stand builders in Germany, these pharma companies are sure to make the out of the CPhI exhibition. They are experts in designing, building, manufacturing, installing exhibition stands and trade show booths that are custom-designed to suit your branding needs. Whether you are exhibiting your pharma company or any other company in different business sectors, they are sure to give you a chance to stand in the competition. With the combined strength of their experiences and skilled workforce, they can guarantee you a desirable return on investment. Whether you're looking for exhibition stand design company in Germany or exhibition booth design Germany, hiring a professional will enhance your chances of gaining a competitive edge.