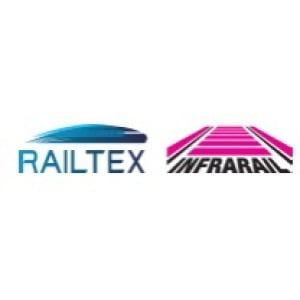 Railtex / Infrarail 2023 Event in London opens the new doors for the industry
The INFRARAIL Exhibition in London manufactures in the key industries of rolling stock technology, track, and infrastructure, signaling, and communications, and covers all facets of railroad technology. The Railtex / Infrarail 2023 Event in London also acts as a showroom for the numerous other specialized product manufacturers crucial to the effective and secure running of the rail and public transportation networks. Equipment for vehicle maintenance, fare collection systems, the leasing of rolling stock, electronics for rail applications, and cable technology are a few of these.
Railroad specialists searching for the newest innovations, INfraRail 2023 is the best option. It also provides the best forum for sharing knowledge and opinions on the most recent advancements at the center of the industry. Railtex/Infrarail 2023 offers the entire railway supply chain a one-stop-shop to source products, from complete railway systems to the smallest specialized components, in addition to serving as a showcase for manufacturers in the key fields of track and infrastructure, signaling and communications, and rolling stock technologies.
All facets of railroad technology will be showcased at Railtex/Infrarail 2023 in several areas. The one-stop store for all things rail will offer the newest products and services, from train stock to station equipment. Over 40 speakers, including two conference streams, will be featured in the trade show's extensive conference program. Free-to-attend events and seminars with CPD accreditation will be a part of the program. One of the main side events at Railex/Infrarail 2023 will be the On-Track show, which will feature workshops and live demonstrations using tools and equipment. The First Time Exhibitor Zone, the Plant and Machinery exhibitions, and extensive matchmaking and recruitment onsite services are some of the other Railtex/Infrarail 2023 supporting events.
Major factors of INfraRail 2023
International Trade Show for Rail Infrastructure Goods and Services The premier UK rail infrastructure market products and services expo is called INfraRail 2023, known as the premier one-stop-shop event for the entire railway industry in the UK, illustrates the sector's dynamic advances and the idea of the rail network of the future. The conference is the top choice for rail industry professionals searching for the newest technologies and the best forum for sharing knowledge and opinions on the most recent advancements at the core of the sector.
Railtex/Infrarail 2023 will offer suppliers to the railway sector a distinctive marketing platform to conduct business as it serves as the industry's premier event and is well recognized as the place to be for businesses engaged in today's growing rail market.
The Railtex / Infrarail 2023 Event in London is the 16th Worldwide Railway Infrastructure Exhibition, the largest international exhibition of railway equipment, systems, and services will celebrate its 18th anniversary. From May 9th to May 11th, 2023, Railtex/Infrarail will take place at the National Exhibition Centre.
Expo Stand Services: Your showcase partner for INfraRail 2023
We supply elite and rewarding exhibition stand designs in London constructed under the surveillance of an improved industry era that removes the possibilities of any mishap at the display site. Expo Stand Services is an exhibition stand design company in London, UK which has exhibition experts who ensure to provide end-to-end exhibition answers while imparting the high-quality help spherical the clock. To layout and construct a bespoke exhibition stand, our in-house innovative designers do crucial studies on the industry type to give your business-orientated exhibition stand designs. Nonetheless, we provide whole exhibition stand production offerings along with display stand topic conceptualizing, display web website online management, and dismantling & shipping.
We are one of the most effective exhibition stand design company in London, UK which could satisfy all of your wishes under one roof. From ground plans and published portraits to lighting, transportation, and garage we provide a cost-powerful exhibition provider with entire flexibility, this means that what you've estimated is what you'll get. Our exhibition stands builders have introduced interactive and beautiful modular, custom, and shell scheme presentations at a variety of professional London venues along with ExCel London and Olympia London that you may get stimulated in our gallery.
Exhibition stand design Company in London, UK
Being one of the distinguished exhibition booth builders in London, we bid faultless custom exhibition stands, modular show stands, distinctive two-tale stands, and USA pavilion stand. Also, innovative show stand designers and picture designers create customer-centric exhibition stands and portraits to satisfy the want to sell your exhibition stand with business-orientated designs.
Our exhibition stand builders are ESSA authorized this means that we supply tasks to the best industry standards. But we don't simply prevent there, we carry our personal innovative & modern enter to the desk due to the fact we need our customers to face out from the competition.
We have properly over 1000+ stand layout sorts to pick from, so you're positive to discover an exhibition stand that catches your interest. Also, those stand designs may be custom designed consistent with your preference. Done at our nearby printing gadgets in Europe, we use the very high-quality dye-sublimation era to create exhibition-equipped stand portraits for you.
To Sum-Up:
Don't like any of those designs seen in the market for your brand. Then we'll construct one for you according to your specifications. Not most effective will we have a skilled crew of in-house stand designers, however, we have a nearby production unit inside Europe to construct your stand. This additionally lets us offer our customers a 100% pre-constructed guarantee, weeks previous to your exhibition.
Furthermore, we've got numerous warehouses and workplaces strategically positioned in numerous areas throughout Europe. So, you may constantly assume activate and responsive transport of your exhibition stand with on-web website online set up and dismantle at the exhibitions.