A+A trade show Dusseldorf 2023 – Safety and health at work
A+A Dusseldorf 2023 is the largest, most influential, and longest-running trade show dedicated to personal health, security and occupational safety. Many industry experts believe it to be a must-visit trade fair for workplace safety and risk prevention. A+A Dusseldorf offers its exhibitors and visitors the world's most prominent platform for business, networking and industry information. This trade fair comprises the entire spectrum of a safe and healthy workplace. From start-ups to well-established companies, all participate in this trade show to represent their business, brands, products, services, security solutions, portfolios, including innovative industry concepts & themes.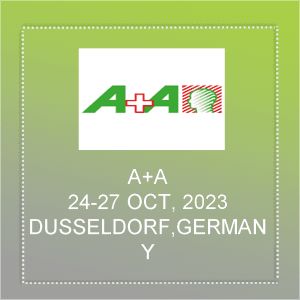 Why you should partake in A+A Dusseldorf 2023?
A+A trade show Dusseldorf, Germany is emerging as a global platform for international trade shows while attaining productivity improvisation. Therefore, once your trade show booth is placed in the product-specific area, exposure is inevitable. A+A 2021 trade show will be taking place in Messe Dusseldorf on 24th October that will last for 4 days on 27th October 2023. With 2000 exhibitors and more than 67,000 visitors, the trade show is going to be one of the largest in the world where people from all across the world will come to see what future holds for the industry. 
What is A+A Dusseldorf 2023?
A+A Dusseldorf 2023 is an international trade show where companies demonstrate products that are essential for maintaining safety, security and health at work. The international congress on Occupational safety & health is a global level meeting for sharing the latest information on all key aspects of the sector. The event offers the industry's newest products and solutions, innovative concepts and welcomes international industry leaders & experts.  
The show will give a platform for industry experts to voice their opinions and concerns. There will be safety engineers, environmental protection officers, representatives of states and non-government agencies & institutions, life rescue services, disaster management officers, trade unions and health insurance companies, and chamber of commerce. In addition, media persons and journalists will attend the show to make notes of what is coming in the industry.
The focus themes of A+A trade show Dusseldorf 2023:
Safety at work – demonstrating the latest machines and equipment for personal protection and safety at work
Security at work – displaying safety products and systems for fire protection, radiation protection, safety devices for machinery, noise reduction, and vibration protection
Health at work – presenting occupational safety gears and tools, equipment for first aid & emergency relief, hygiene, and sanitary supplies.
Major Exhibition In Germany
Exhibition stand design company Germany
Finding a suitable location for your trade show booth in the hall may not be easy, as companies start booking key spots at A+A Dusseldorf just after the release of dates. It is highly recommended to secure your favorite spot as soon as possible before someone else takes your place. To do that, you can ask for the support of an exhibition stand design company Germany or Exhibition stand contractors Germany. They have strong connections with trade show organizers and provide a direct approach for you to book a suitable spot long before the event takes place. Exhibition booth builders Germany will give you an upper hand in the design and building of trade show booths so you can stand out from the rest.